If you're considering homeschooling, new to homeschooling or you're an experienced homeschooler–this is the event for you!  Cola City is an inclusive resource for all homeschoolers, regardless of religious preference, ethnic background, family structure, political affiliation or educational philosophy. This Expo promotes resources that include all varieties of homeschools.
Local Services and Products
When we say local, we mean local to South Carolina. Accountability Associations, support groups, resource centers, sports programs, special needs testing and services, music classes, art programs, and lots more educational opportunities! Plus, home business opportunities and fundraisers.
Click HERE to see the vendors and sponsors for this year
Used Books and Consignment Sale
Everyone loves a good book sale. This Homeschool Expo invites homeschoolers with used books, resources, and curriculum to get a table space to sell your own items OR drop off your items for our consignment sale! Shoppers come browse to find the best deals on your wish list.
Click HERE to sign up as consignor
Demos and Interactive Presentations
Live demonstrations from local groups and programs. Hands-on, interactive activities, too.
Vendor Registrations
Participating vendors may offer school supplies, lessons/classes/instruction opportunities, discount promotions, field trip destinations, educational resources, college recruiters, home business, handmade/home-made items, swap meet used books/homeschool curriculum.
Click HERE for Vendor Registration: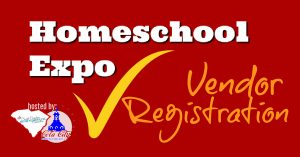 Vendor Space Early Registration -- Prices thru May15
10 x 6  Economy Space Includes:
8-foot table
Ad Promo mentions
Note: Chairs, electricity extra fees
Table Only Economy Space
Includes 8-foot table only. Information and/or books must fit on/under the table.
Note: Chairs, electricty and ad promo mentions extra
Ad Promo Mentions Only
Business participants who cannot attend in person can still get promotions.
Doors Open to the Public at 10 am
Free admission
Help Desk for Homeschooling Questions
Door Prizes throughout the day
Free Doorbusters till supplies run out
Optional Donation for Parking
Volunteers Needed
Are you interested in volunteering to help contact prospective vendors or help for a few hours in-person on the day of the Expo?
Many hands make light work! Tell us how you're able to help out