Virtual Camp with SC State Museum
June 22, 2020 @ 10:00 am

-

June 26, 2020 @ 4:00 pm

$100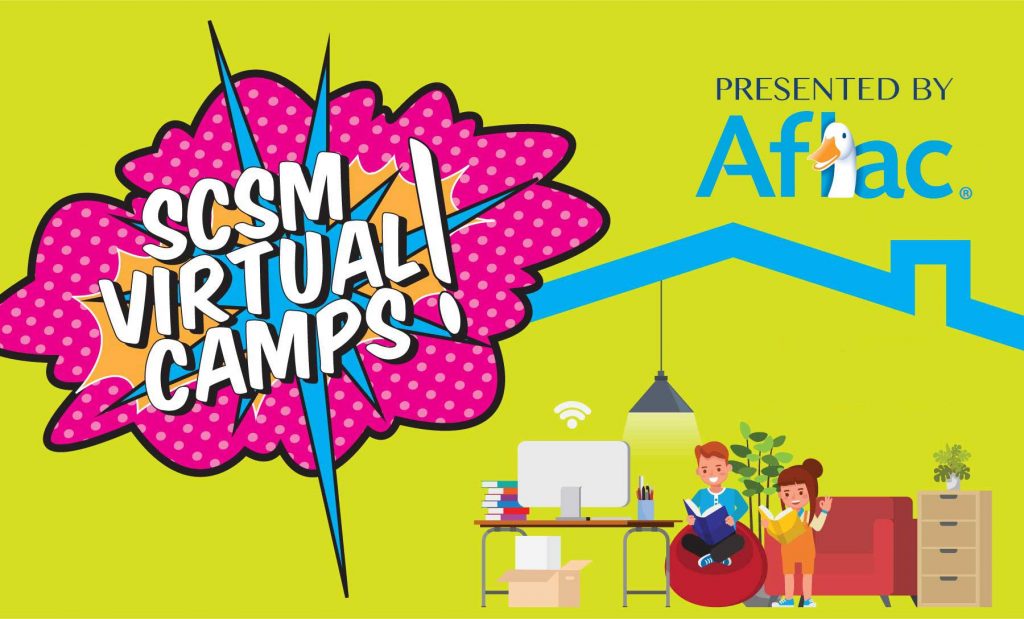 At-Home Virtual Summer Camp
By SC State Museum
June 22-26
All Ages — $100/Family Kit
Each day is split into two sessions: 10:30 a.m. – 12:30 p.m. and 2:00 – 4:00 p.m.
Each camp week comes with a kit of supplies for the daily activities. Kits will include enough materials for one camper – but can be shared with other campers in the household. Additional kits are available for an add-on fee. Kits will be available for pick-up at the museum on the Friday before the camps week starts from 6 – 7 p.m.
Camp activities are designed with parents in mind. Activities are intended to be completed with virtual assistance from museum educators and require little parental oversight.
Activities are hands-on and mostly mess-free.
Materials pick-up: June 19 (6-7 p.m.); Materials drop-off: June 26 (6- 7 p.m.)
Astronomy Day – Galaxies and Black Holes
Mon., June 22
Recreate what galaxies would look like if you could see beyond the visible spectrum. Then create a model that explains why the image of the black hole at the center of the galaxy M87 looks like a cosmic doughnut.
Robotics and Technology – Dash and Dot – bots!
Tues., June 23
Dash is back but this time with his little buddy Dot! Learn how to kinetically code and how to get these two best buddies to play hide and seek. We'll then explore Dash and Dot a little more and teach Dash how to play music on his Xylophone.
Natural History – It's a Hoot!
Wed., June 24
Learn about owls, their unique adaptations, and their place in the ecosystem. We'll even make our own owl creations!
STEAM Day – Engineering and the Science of Light
Thurs., June 25
We'll work on our Civil Engineering skills as we build a structure to keep 3 little pigs safe from the elements. Then we'll take a look at the science of light as we create our own kaleidoscopes and a way to sneakily peak around corners without getting caught!
History – Journey to the Classical World
Fri., June 26
We'll explore the mysteries of ancient times and craft our own death mask. Then we'll jaunt to Pompeii and create a Roman-inspired mosaic!