Minecraft Halloween Party
October 31, 2020 @ 10:00 am

-

11:00 am

Free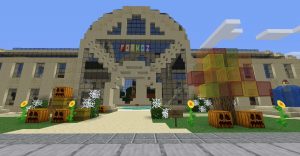 Minecraft Club Halloween Party
At Cola City's Server
Saturday, October 31st at 10am
FREE — All Ages
Costume Contest:
Come dressed in your scariest Minecraft skin! You can use a premade skin (downloadable at several sources) or create your own!(
minecraftskins.com
is a good skin editor) MAKE SURE YOU HAVE YOUR GROWN UP'S PERMISSION TO DOWNLOAD SKINS. The rule about adult-themed skins still applies (no naked looking/inappropriate people please) but we are relaxing the creepy rule just for this party.
Pumpkin Hunt: Enter my lair and search for as many pumpkins as you can gather in the time provided. Be warned, there are many twists and turns and secrets.
Parkour course: Test your skills on our new parkour course. Show off your balance, jumps, speed, and precision as you travel through the perilous obstacle course. Win bragging rights and glory by completing the four sections!
Swamp Hide and Seek: "It" will be chosen by a random number generator, they will count to 30, then have 5 minutes to hunt for the hiders. NO TELEPORTING (unless you accidentally die, then you may use the /back command), you will be provided food. This contest won't have a winner, it's just lots of fun!
Beware, you must enter each contest empty-handed or be disqualified from prizes. All attendees will receive a prize, winners of each game will get a little something extra. Hope to see you all there!